Navigating the United States Immigration Process
Jul 7, 2023
by Rachel Chappell Chauvin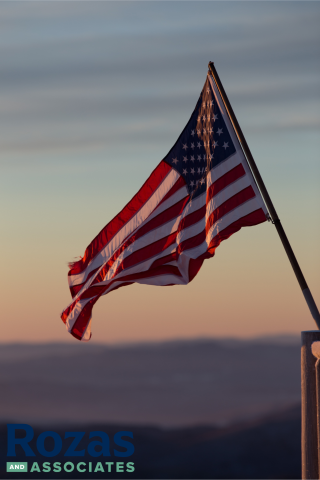 The United States of America is known as the land of opportunities, attracting people all over the world. Many individuals dream of visiting or moving to the U.S. for different reasons, including work, study, or to reunite with family. However, making this dream a reality requires navigating the complex U.S. immigration process. This process can be quite daunting, especially for those who are unfamiliar with it. In this blog post, we will discuss the United States immigration process, eligibility criteria, visa application, documentation, immigration forms, and immigration agencies to help you better navigate the process with ease.
1. Immigration Process
For those inside or outside of the U.S. immigration process is divided into several stages, and it typically requires an individual to apply for a visa, which involves completing complex forms and procedures and submitting required documentation. It is essential to decide on the type of visa before starting the application process. The three main visa categories to the U.S are employment-based, family-based, and student-based. Each category has its requirements and procedures.
A family-based visa requires applicants to prove a relationship with a United States Citizen or a Legal Permanent Resident exists at the time of filing.
An employment-based visa requires the applicant to prove official employment awaits them in the United States and they are qualified for such employment.
A student-based visa requires the applicant to demonstrate acceptance to a school within the United States and an intent to complete the necessary course-work.
2. Visa Application
Once you have determined the type of visa required, you need to create an account at the U.S. Department of State website and complete the visa application process. Personal information, including your name, date of birth, and contact address, must be provided. You also need to provide biographical details and employment history to help assess your qualifications. It is essential to double-check all details before submitting your application to reduce the risk of the application being rejected.
Step 1. Determine Eligibility for an Immigrant Visa
Immigrant visas are issued to foreign nationals who are looking to live permanently in the US. The first step in the immigration process is to determine your eligibility for an immigrant visa. The USCIS website provides a list of categories for immigrant visas; such as family-based visas, employment-based visas, and diversity visas. Each category has specific requirements and procedures for application. Understanding the category you fit in is essential in navigating this process.
Step 2: File Your Petition for a Green Card
A Green Card grants a foreign national the status of a Lawful Permanent Resident in the US. After determining your eligibility, the next step is to file a petition for a Green card with the USCIS. This is where an experienced immigration attorney can offer valuable assistance. The attorney can guide you through the documentation needed and ensure that everything is filed correctly and on time. In addition, the attorney can make sure that you avoid common pitfalls that could delay or even jeopardize your application.
Step 3: Biometric Services Appointment
If you are in the United States, you will receive a notice from the USCIS to come for biometrics services. This is where your digital fingerprints and photo will be taken. This information is then used to conduct a background check on your criminal record. It's essential to attend this appointment as scheduled; otherwise, it could result in delays or even rejection of your application.
Step 4: Consular Interview
If you are outside of the United States, after the background check, the next step is obtaining the visa at a US consulate or Embassy. The consular officer will conduct another interview, so its essential to be well prepared. This interview typically focuses on the applicants admissibility to the US, such as their connections to family, employment, and financial support.
Step 5: Entering The United States
Once you have your visa and arrive in the US, there are additional steps to obtain a Green Card, establish yourself in the US and eventually apply for citizenship. You must register yourself and your family for social security numbers, pay taxes, and attend the mandatory Green Card interview. After a successful interview, you will receive your Green Card, which allows you to live and work in the US freely.
3. Documentation
Every visa application requires supporting documentation. It is essential to ensure that all the required documents are included to avoid any delays processing your application. Typical documentation required includes educational certificates, work experience, financial certificates, a valid passport, and supporting photographs. To ensure that you provide the correct documentation, it is essential to stay current with any changes in laws and policies. An experienced lawyer will provide you with a check list of the necessary documents for each step of your immigration process. Failure to provide these required documents will cause delays on your immigration case.
4. Eligibility Criteria
Eligibility criteria are the requirements that must be met to qualify for a visa. Each visa category has its eligibility criteria and requirements. Meeting the eligibility criteria does not guarantee that the visa will be approved. Therefore, it is crucial to provide accurate information and ensure that all documentation provided is genuine.
For many, there will be an additional step prior to the filing of the Visa Application. That is, you will need to prove a relationship with a United States Citizen, or prove an employment based relationship is readily available prior to applying for the visa itself.
5. Immigration Agencies
Navigating the immigration process requires significant attention to detail, patience, and knowledge of the process. Consulting with immigration agencies can be of great help, as they provide valuable support and guidance throughout the immigration process. These agencies have professionals who understand the complexities of the immigration process and can guide you throughout the process. The most recognized agencies are:
The U.S. Citizenship and Immigration Services (USCIS) is the main agency responsible for processing immigration applications. This includes everything from green card applications to work permits. If you need to submit an application or have questions about your status, USCIS is the agency to contact. They have offices across the country and a helpful website with information and resources.
U.S. Immigration and Customs Enforcement (ICE) is responsible for enforcing
immigration laws and regulations. This includes investigating and arresting individuals who are in the U.S. illegally or who are involved in immigration-related crimes. While this agency can be intimidating, it's important to remember that their job is to enforce the law. If you have questions about your legal status or need help navigating the immigration process, contact USCIS or an immigration lawyer instead of ICE.
Conclusion:
The United States immigration process is complex and can be quite challenging to navigate. However, understanding the process, eligibility criteria, and supporting documentation can help reduce the stress. Additionally, working with an immigration agency can provide valuable assistance throughout the immigration process. Therefore, it is essential to prepare well in advance to avoid any delays or rejections. With the right preparation and knowledge, you can navigate the U.S. immigration process with ease and achieve your dream of visiting or moving to the United States.