Why Do I Need an Immigration Lawyer?
Sep 20, 2021
by David J Rozas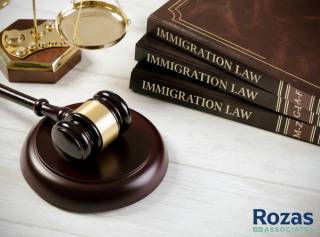 5 Reasons Why You Need an Immigration Lawyer
If you or a loved one are trying to immigrate to the United States, you've probably realized how frustrating, stressful, and emotional the experience can be. That's why the team of legal experts at Rozas and Associates has helped immigrants all over the country with their legal issues for over 20 years. We're dedicated to helping our clients get the best results for their situation, though we've found the following five to be the most common.
---
If you or a loved one is being detained in an immigration detention center in Louisiana or Mississippi, you need legal help immediately. Once a deportation order is filed, the victim only has 30 days to stop their deportation, meaning there's no time to waste on filing important documents and motions with immigration court.
A representative from Rozas and Associates is in every single detention center in Louisiana and Mississippi every day, and ready to help you file for bond, criminal or humanitarian parole, an I-589 form for asylum, withholding, or CAT, a
cancellation of removal (42b)
or (42a), Adjustment of Status in Removal Proceedings, and more. We know exactly what to do to help you and your family in this very stressful situation.
---
Whether you're looking to bring your fiance or spouse to the United States from another country on what's known as a K-1, or 90-day, visa, or if your betrothed is already stateside (regardless of documentation status), we can help you with filing paperwork and pursuing your rights in court.



When it comes to family-based immigration, we can also help with the Petition of an Alien Relative (I-130), Petition for Alien Fiance (1-129F), Petition to Remove Conditions on Residence (I-485), and more. If you're trying to reunite your family members in America, call Rozas and Associates.
---
If you're unwilling or unable to return to your home country because you have a well-founded fear of persecution, or will be unsafe, you're seeking asylum, and you can apply for refugee asylum in the United States. In recent years, it's become harder to apply for
asylum status
in the U.S., making the necessity for a knowledgeable immigration lawyer even stronger.
The expert immigration attorneys here at Rozas and Associates have the required experience with immigration cases and the passion to help you navigate the bureaucratic and legal process to become protected under refugee status in America.

We can help you fill out the lengthy Form I-589 in English for the Asylum office, and we will help you prepare for your interview in the case of an affirmative asylum. If you end up detained while waiting for your asylum hearing, we can fight on behalf of you or your loved one to get them home pending your hearing.
---
The process to become a United States citizen can take years, and requires multiple steps along the way. Your citizenship journey will also be extremely dependent on your own personal situation and what you need. Naturalization as a permanent resident can take five years, but if you're married to a U.S. citizen, you can fast-track it to three, or by serving with the military. There are also a number of ways your application can be denied, but you can appeal those denials in court.

There's also a comprehensive citizenship exam to study for, and many other considerations when it comes to obtaining citizenship in the United States.

The team at Rozas and Associates has helped immigrants apply for naturalization, and worked with them throughout the entire process, for years. We have the know-how and the resources to help you become a naturalized U.S. citizen. Call us today.
---
The United States has a lot of options for people wanting to work or study here. There's the F1 OPT for students, a variety of permanent and temporary worker visas for both skilled and unskilled laborers, and more that you can be eligible for. For some visas, you'll need your employer to sponsor you; for others, you can apply yourself. Some of the most common work visas include the H1B, H2B, H2A, and EB3.



Whatever visa you're applying for, you need the guidance of a knowledgeable immigration law firm like Rozas and Associates. We've represented clients from every state in the U.S., as well as from over 30 countries, including Germany, China, Argentina, Uruguay, and many more. We have a dedicated staff of English and Spanish speaking lawyers ready to help you or your loved one work toward an employment visa today. The immigration process is complex, and there are many factors to consider when you are trying to obtain a green card. Don't make it harder than it has to be, and schedule your free immigration consultation today.
---
Though our law firm is based in Baton Rouge, we have helped clients from all over the world with their immigration and naturalization to the United States. When you're ready to begin your journey, give our law firm a call at 225-478-1111 for a
free immigration lawyer consultation.
We're committed to putting our years of experience and passion to work for you and your family. Whether you've overstayed your visa and you're facing deportation, you want to become a naturalized citizen of the United States, or you need to adjust your immigration status, we are here for you!
Legally immigrating can be a complex matter, but if you trust the expert lawyers in Baton Rouge who keep up with immigration news, have handled hundreds of immigration matters, and have helped people just like you in U.S. immigration courts, you will be in the best hands possible. Give us a call, stop by our Baton Rouge law offices, or schedule online;
our expert team
is ready to fight for you!
---