What is the Difference Between Conditional Residence & Permanent Residence?
Jul 22, 2021
by David J Rozas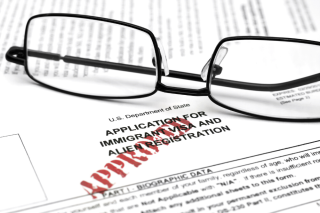 What is a Conditional Green Card?
If you're a foreign national and have been married to your spouse that is a United States citizen for under 2 years when you arrive in the US on an immigrant visa or are approved for a green card, you'll start out your new life as a "conditional resident."
What is the Purpose of Conditional Residency or a Conditional Green Card?
This term of non-permanent residence is there for the purpose of conditional residence
marriage
review. The immigration authorities inspect marriages, especially newer ones, with a fine-tooth comb to ensure the marriage isn't just a sham to get the immigrant a green card, or just a "green card marriage." This is why some marriage-based green cards are "conditional;" it's like a testing period.
In most ways, conditional residents have the same rights as permanent residents. They are allowed to travel in and out of the United States, accept
employment
without having to separately apply for a work visa, and the 2 year time period does count towards their US citizenship. Their time as a conditional resident will count for permanent residence for the purposes of applying for naturalization as long as they are approved for permanent residence after the "test" period is over. After this period, you can apply to remove conditions on your green card, which, if approved, will become a permanent resident card instead of a conditional one.
How do you Apply for Permanent Residency?
To apply to remove conditions on your green card, you and your spouse must submit a joint petition on Form I-175 to USCIS, which is free to download on their website. Timing is KEY. The form must be sent in within the 90 day period before your conditional residence ends, along with further evidence that shows the marriage is real and ongoing. Submit proof of cohabitation, commingling of finances, intimacy, and raising a child together. Some examples include:
Joint leases
Joint bank accounts
Memberships
Joint mortgage or loan documents
Photos from honeymoon
Social media records
Communication with In-Laws
Birth certificates
Medical records for pregnancy
Affidavits from friends and family members detailing the authenticity of your marriage will be helpful as well. While all of these documents will assist in solidifying your marriage to achieve permanent resident status, evidence of a child is the strongest evidence of all. However, immigration law says that if USCIS decides your marriage is fake after reviewing everything that was sent in, you could lose status entirely and have to leave the country. That is where an experienced
immigration attorney
can help with the green card process.
Contact an Experienced Immigration Attorney Today
Though the process of becoming a permanent resident seems direct, it can get very complicated considering the factors that are involved in the process. The best way to navigate the road to residency is to have an expert immigration lawyer next to you, in the passenger seat. Here at Rozas, our skilled team of
immigration lawyers
won't be afraid to take the wheel if needed.
Choose us
because we promise to be there for you every step of the way to guide you through the permanent green card application process. Just as David Rozas watched his father help and support his community for 35 years, we are here to help you! Become a part of the Rozas family and book your
FREE immigration consultation
today! To schedule, please call our office in Baton Rouge at 225-478-1111 or contact us online.