Steps to Become a United States Citizen
Jan 1, 2022
by David J Rozas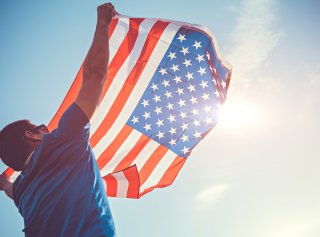 If you or a loved one has decided to apply for American Citizenship, you're probably aware of how complex and arduous the process can be. That's why you need legal representation by a law firm with the experience and skill necessary to
handle your immigration case
. Rozas & Associates has represented thousands of U.S. immigrants in their cases, and can probably help you as well.
Regardless of your situation, there are a number of steps that you should take in order to become a naturalized American citizen. The following 5 steps are recommended by the United States Citizenship and Immigration Services (USCIS), and if you're confused by any of it, the attorneys at Rozas & Associates are happy to help!
---
Step 1. Determine if you are eligible to become a U.S. citizen
To become a United States citizen,
you need to be at least 18 years of age
,
in possession of a green card
, and have been a
permanent resident for, at the very least, three years
. If you've been a
permanent resident for three to five years, you must be married to, and living with, a U.S. citizen
.
During the five years of your permanent residence, you
must not have been out of the U.S. for thirty months or more
, or taken a
trip out of the U.S. that lasted more than a year
. You must have
lived in the state in which you're applying for citizenship for the past three months.
In addition to the above residency requirements, you must be able to
read
,
write
, and
speak basic English
, as well as
know the fundamentals of U.S. history
and form and
principles of the U.S. government
. You will also need to
register for the Selective Service,
if you're male; be
willing to perform military or civilian service if required by law
; and
support the Constitution
and be willing to t
ake an oath of allegiance
to the U.S.
Of course, all of these requirements have various caveats and exceptions, depending on your situation. For example, if you're over 50 years old and have lived in the U.S. for at least 20 years, you don't need to read, write, or speak English to apply for citizenship. The entire list can be confusing, so we recommend seeing a legal professional to talk through your eligibility and find study materials.
---
Step 2. Prepare your Form N-400 and submit with fee
The N-400 form is the USCIS's Application for Naturalization form. It comes with instructions on how to fill it out, but it's a good idea to talk to a lawyer for help completing it. You'll also need supporting documents for your application, including a photocopy of both sides of your Green Card, evidence that you've been married to your citizen spouse for three years (if applicable), and many other documents, depending on your situation. This is a great time to seek the help of an immigration lawyer to make sure you submit all the correct evidence and forms.

---

Step 3. Appointments: Biometrics & Interview
You might need to submit biometric information, like your fingerprints, to the USCIS, to become a U.S. citizen. If so, you'll receive an appointment notice as to your appointment date, time, and location where your biometrics will be taken.
After you've submitted your Form N-400, had your biometrics taken, and completed all other preliminary processes regarding naturalization, USCIS will schedule an interview with you. You will also be tested on your knowledge of American civics and society (
download our free study guide!
), as well as your ability to read, write, and speak English at this interview. Make sure to bring your appointment notice with you to your naturalization interview.
---
Step 4. The USCIS's Decision
After deliberation, the USCIS will make one of three decisions regarding your application for naturalization:
Granted: If there's enough evidence in your record, your N-400 will be approved and you will be deemed eligible for naturalization.
Continued: If USCIS needs more evidence or documentation of your status, or if you failed the English and/or civics test, your application might be deemed Continued.
Denied: If the evidence in your record shows that you're not eligible for naturalization, USCIS will deny your application.
---
Step 5. Oath of Allegiance to the United States and Citizenship
Once your application receives Granted status, you'll be ready to participate in a naturalization ceremony and take your Oath of Allegiance. There's a form for that as well, the N-445, that you'll need to fill out. After you take the Oath of Allegiance at your naturalization ceremony, you'll be a full citizen of the United States, with all the rights and responsibilities thereof!
---
Get help with your citizenship application from Rozas & Associates
If the process outlined above sounds complex and somewhat arduous, that's because it is! It can take years for the United States government to review and approve a citizenship application, so you need someone in your corner who knows the ropes. Rozas and Associates knows the immigration officers in Louisiana, the forms to fill out, and what motions to file to help you get the best opportunity to become a citizen.

Here at Rozas & Associates, we offer
FREE immigration consultations
, and we represent clients who are fighting their case in immigration court in both detained and non-detained locations all over the United States. Getting information from a citizenship resource center is not enough; immigration law is complex, so you
need an experienced immigration attorney
on your side! If you are struggling to understand the concept of citizenship, want more information on immigration enforcement, want to know how to be granted citizenship, or just need legal advice,
our expert team
of immigration lawyers are here for you. Contact us today online or come by our office in Baton Rouge to learn more about
visa categories
, get more information about
asylum
seekers, or
take the first step to becoming a United States citizen
!